Tour of Kelvingrove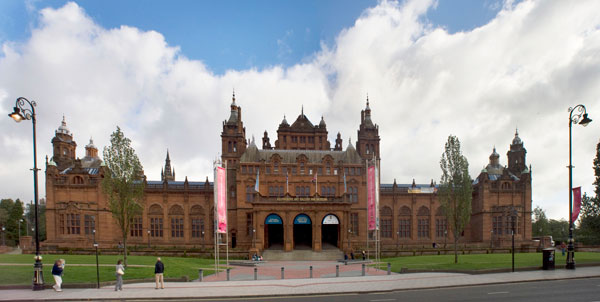 Coordinator: Graham McDonald
Kelvingrove Art Gallery and Museum has been a favourite with Glasgow's residents and visitors since it opened in 1901 as part of the Glasgow International Exhibition. It is sited at the edge of the beautiful Kelvingrove Park in Glasgow's cosmopolitan West End and is one of the top three free attractions in Scotland.
The permanent art collection on display includes: Salvador Dali's Christ of St John of the Cross, Dutch Old Masters, French Impressionists and Scottish Art including the Glasgow Boys and the Scottish Colourists. There are also beautiful displays of decorative art including an entire gallery dedicated to works by Charles Rennie Mackintosh and other artists working in the 'Glasgow Style'. We also have nationally and internationally recognized collections of arms and armour, world cultures, Ancient Egypt, prehistoric animals and Scottish history. There's even a Spitfire plane suspended from the ceiling!
The museum has a choice of cafes offering a varied selection from snacks to light lunches and full meals and the gift shops stock an excellent range of gifts and souvenirs, including many exclusive items inspired by the collections on display.
See also the official museum website.
Kelvingrove photo: © CSG CIC Glasgow Museums and Libraries Collections 2015